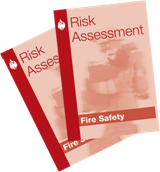 Does it apply to me ?
Yes, if you are a landlord or an owner/occupier of business, non-domestic or residential premises, who are responsible for fire safety, also persons running a B&B, guesthouse or let a self-catering property. Known as the 'responsible person' needing to comply with the Regulatory Reform Order 2005 (RRO)
The Regulatory Reform (Fire Safety) Order 2005 came into effect in October 2006. This new order effectively amalgamated over 70 different pieces of Fire Safety Law.
Under this new Fire Safety legislation a suitable and sufficient Fire Risk Assessment must be in place in any business that has more than 5 employees. It is the responsibility of the employer, landlord, owner of the premises or managing agent to ensure this happens. Your Fire Safety Risk Assessment should be the very heart of your fire safety policy and be the basis of any fire protection measures that you put in place to protect your workforce and property.
Undertaking a Fire Risk Assessment is quite a daunting, time consuming exercise, particularly if you have no experience in the field. It is recommended that you employ fire safety risk assessment professionals to provide you with comprehensive information and written documentation to ensure your business is fire safety compliant.
At Advanced Fire systems we can quote / provide the risk assessment via our nominated third party accredited fire risk assessor who has over 35 years' experience in the fire safety industry, both in Local Authority Fire Brigades and the private sector.
Please email details to FRA@advancedfire.co.uk or call 01628 680640